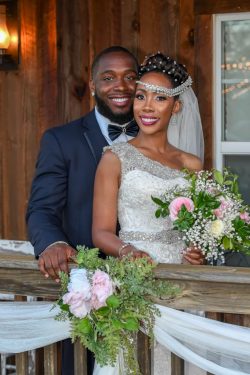 Over 4,000 Weddings and I think this wedding would get a couple "Best of Awwards" which you have to see. The Bridal Party Dance at (5:55) with the bridesmaids on of the best ever. Also the Garter Take Off at (7:15) Morquez with the help of his groomsmen put on a presentation for the bride which included the Mannequin that I think lasted 10 minutes.
Lauren & Morquez met in April of 2014 when Lauren was on vacation to visit a friend. They were at Brandon Mall when Lauren caught Morquez's eye and to his suprise she had an english accent. They exchanged numbers and their relationship blossomed. The communicated thorugh messages and every social media they could find which resulted in Lauren & Morquez being married in a Christ-centered ceremony at the Wishing Well Barn. Their son Graysen was just so precious.
Michelle and her staff at Wishing Well Barn just do an amazing job and so helpful and very obvious they they really care about the bride being happy. They allowed us to use their TVs inside the barn which displayed our video during the reception. The food is great and just first class service all around. For information on having a wedding at this Plant City Venue see Wishing Well Barn Weddings.