These are real people with location of review posted so you can go to these websites to verify their authenticity or with emails & survey forms we'll provide you with a copy & email address
Google Review Wedding Date 06.24.23 (see review )
"Joe (photographer) and Dave (videographer) did my wedding June 2023 and they did an excellent job! They were easy to work with, friendly and professional. They provided 7 hours of service and were there for pre-wedding photos all the way to the sparkler exit. Joe scoped out the venue upon arrival and found a beautiful spot to take couples photos outside. Dave's highlight video is professional and well put together. I love having this memory to share easily with family and friends. Plus, I have the long version of the entire event he even put to music. Joe's photos turned out beautifully. I am super happy with their work and I highly recommend!" – Lacey Patino-Gregorio wdg at BayLife Church in Brandon, FL
The Knot Review poste 06.04.23
"I asked for a very specific wedding video and Celebrations of Tampa Bay delivered in every way! Dave made us a beautiful wedding video that we will cherish forever." -Hillary Leipold, wdg at Cross Creek Ranch
Google Review posted 04.16.23 see review

"My wife and I had our wedding last month (March 2023) on the Yacht StarShip and we had such an amazing wedding! Our photographer and videographer were very professional and helped us get some amazing pictures. I am really happy that we decided to go with Celebrations of Tampa Bay. I would highly recommend them to anyone looking to get some amazing pictures/videos. Thank you for everything!" -Shane Sandie; wdg March 2023 on Yacht Starship
The Knot review posted 04.11.23

see review
"We used Celebrations for our wedding. It was a great experience! Our DJ listened to all of my requests and called me prior to really iron out EVERY detail. Everything went perfectly! My guests danced all night and had a blast!" –
Gabrielle Bishop wedding 03.11.23 at Florida Rustic Barn
Google review posted 02.17.23  see review
"My husband and I used Celebrations of Tampa Bay for our wedding and they were amazing! Chuck was an amazing DJ! He ensured the events throughout the night flowed smoothly and guest were constantly on the dance floor! We highly recommend him for any event you have in the future!" – Amanda Donato wdg 12.16.22 at Florida Rustic Barn
Google review posted 02.14.23 see review
"We used Celebrations for our wedding at Florida Rustic Barn and they were amazing.  Chuck was wonderful and made everything flow so smootly.  Communication was fantastic.  We highly recommend!" -Tara DeBlasio(wdg at Florida Rustic Barn)
Google Review posted 04.03.22
"Celebrations of Tampa Bay made our beach wedding all the more memorable and special. From the stunning aerial drone shots to some of the most lovely/personal moments from our special day captured by our incredible videographer, we were beyond thrilled with the videography from our wedding. We were even more excited when we received the email notifying us that our condensed/highlight wedding video was available (less than a month after our ceremony!). The highlight wedding video was wonderfully put together, and brought tears to our eyes. And we can't forget our awesome DJ, who kept the energy up and the party going throughout the night. Our only regret was not using Celebrations of Tampa Bay for our photographer as well. We cannot recommend this vendor enough!" -Melissa Siew-Pavlow, Wdg 10.23.21 at Cay Pointe Villa, Indian Rocks Beach
Wedding Wire Review posted on 03.01.22
"What can we say but perfect all of the above(Photography, Video, and DJ). With our schedule, our wants, all we're achieved" -Sarah Kim-Wilsen, wdg at Ritz-Carlton Sarasota
Google Review posted 11.15.21
"Chuck was the DJ for our wedding he was incredible! He was great at communicating and directing the entire night. We highly recommend Celebrations of Tampa Bay if you are looking for a DJ for any event!"–Angel Linton
Wedding Wire Review posted on 08.14.21 (see review)
"When I first talked to Joe on the phone, he was determined to give me what I wanted and when he arrived he did just that. He gave me all the shots I could ask for and he did an amazing job getting them to me right away. He was the best photographer I ever worked with. He was very professional and nice and he made me one happy bride. I would definitely use Joe as a photographer again. Everyone one loves the pictures he took. Thanks again Joe for making our day special. You are the best!" -Dani Taylor, wedding 07.17.21 at Hilton Clwtr Bch
Google Review posted on 08.16.21

(see Review)
We used Celebrations of Tampa Bay for up lighting for my daughters wedding. Their quote was competitive, the service was great. Stephanie was responsive and easy to work with. The room looked great. Thank you.
Review Wedding Wire posted 02.16.21

see review

.


"My planner, Susan, recommended Celebrations of Tampa Bay and I'm so happy with their services. We used their zoom capabilities with Dave, videographer Randy, and Joe as our photographer. They were all professional, attentive, timely and clear communicators. I loved their artistic style and cannot wait to see the final pics and videos! They even stayed a little longer past the time we hired them for just to make sure they caught everything we wanted. Thank you so much to Stephanie for all the coordination and to all the team at Celebrations of Tampa Bay!" – Sara Rothenburg-Rivera…Wdg 02.11.21 at Tampa Bay Watch
The Knot review posted on 09.16.20 (see review)"Randy, Stephanie, and Dave were absolutely amazing to work with! We booked Celebrations of Tampa Bay for our wedding videographer. Our wedding plans changed several times before and during COVID and they were extremely accommodating and responsive to all of our questions and concerns. Dave was our videographer and he went out of his way to make us feel safe and comfortable, which we greatly appreciated! The highlight/teaser video and documentary video far exceeded our expectations and we're so happy we found them! Highly recommend Celebrations of Tampa Bay to anyone in Florida looking for a wedding videographer. " -Molly Nurcyzk-DiDonato wdg at The Bayou Club 06.25.20

Review on The Knot posted on 09.11.20
Very pleased with our photographer/videographer/DJ combo! Our pictures were perfect (Joe), the video priceless (Bernie) and the DJ (Dave) did everything perfectly! Very happy with the ease of having all 3 vendors with the same company! We completed the worksheets and they were all executed perfectly by the team. We didn't have any idea what photos we wanted, but Joe directed us perfectly and we have some amazing photos to cherish for the rest of our lives. Thank you all for making our day wonderful and capturing our special day so we can cherish it forever!!! HIGHLY RECOMMEND!!! -Cheryl Colombo-Lorenzo wdg 08.08.20 at The Rusty Pelican
Wedding Wire Review posted 07.05.20

"I hired Celebrations after seeing the video they did for a friends wedding. Stephanie and Randy always replied quickly and were helpful in finding a package that fit our budget. Randy went above and beyond to get beautiful shots on our wedding day and provided us with multiple videos that captured our wedding day perfectly. Not only will my husband and I cherish these videos for years to come, but our family loves recapping the day as well! I highly recommend!!!" -Joelle Bellmund wdg 02.29.20 in Sarasota
Google Review posted 06.29.20

"There are no words to truly describe how much Celebrations of Tampa Bay helped take care of the organization and planning leading up to our wedding (purchased the Deluxe All Inclusive Wedding Package), but went ABOVE & BEYOND to also capture ALL of the magic shared by our loved ones and friends on our special day. Celebrations of Tampa Bay is and will always be the BEST decision we ever made for our wedding day… such a kind and wonderful experience to work with them. We cannot thank DJ Dave, Joe the Photographer, Stephanie with Coordination, and Randy our Videographer (and Owner) for making our December 28th, 2019 Wedding in Clearwater so special, and for turning all the special moments of our wedding into forever memories (absolutely stunning photos and Blue-Ray DVDs). HIGHLY RECOMMEND Celebrations of Tampa Bay to all in the Tampa Bay Area and we look forward to using Celebrations of Tampa Bay in the future again for family and friends!" -Ana Justine Yousefi Cohen wdg at Kapok Special Events Center.
Wedding Wire Review posted 02.23.20
"Randy is a true artist! He was super professional and respectful. I felt like he captured everything we wanted and put it together all in a way that makes me cry every time I watch it! Truly excellent work. He was also great about working within a budget and still providing more than you could ever think of!! You'll regret not hiring him." -Mariela Tassone wdg 02.08.20 at Powel Crosley Estate
Wedding Wire Review posted 02.11.20
"We hired Celebrations of Tampa Bay for our photographer (Jamie), videographer (Randy), and DJ (Dave) for our February 23, 2019 wedding at IMG Acedemy in Bradenton, FL. They were absolutely PERFECT and were made our day so special!!
They made booking them very easy and were great at helping us figure out what we wanted. Leading up to the wedding, and during the wedding itself, they worked SO well with our wedding planner and venue in accommodating our day of schedule and helping things go smoothly. They meshed well with our guests and had fun with all of us, ultimately making it so fun and with great photos/videos to look back on.

Our photographer, Jamie, was wonderful for both the 90 min Engagement Session and Wedding Day! Very open to suggestions, but did a great job of directing the day to make sure everything went smoothly. He also got our photos back to us about a month after (a couple weeks before we expected!)
Our videographer, Randy, was so great! He and Jaime worked really well together to make sure they both got the shots they wanted without getting in each other's way. Our preview video was perfect
(and posted just a couple days after our wedding!) and we will cherish the long form video for the rest of our lives. Now, a year later, we love looking back at both our preview video and long form video to relive our special day!
Our DJ, Dave, was fantastic. He came prepared with a great playlist that got our guests up and dancing. Plus we brought a bunch of light up/blow up props for the guests to use, and he passed stuff out perfectly in waves so it wasn't just chaos as guests got what they wanted.
Overall, I am SOOOO happy we hired Celebrations for our wedding day. They truly made our day so special, and we couldn't be more grateful." – Tess Puhak Wdg 02.23.19 at IMG Academy
The Knot Review posted 02.09.19 by Krystan C

"I will be the first to admit that I almost did not hire a videographer.  It was definately not in my budget, but I am so grateful that we hired Celebrations of Tampa Bay.  Having the video, memories of our wedding day is something I will cherish forever.  Every moment was perfectly captured and we are so happy with our video.  I highly recommend any bride to be debating on whether or not to hire a videographer, to do it!  Those memories can never be recreated and having it on film is beautiful." – Krystan Chmelovski wdg at Hilton Clearwater Beach
The Knot Review posted 01.16.19

"Seriously the best thing we did was hire Randy to be our videographer.  Randy was spot on with everything.  Very professional and captured the best moments of our wedding.  Randy took his time to capture the perfect shot for us and our party.  Randy came on time and even from the kindness of his heart stayed a tab bit more to get some dancing footage.  Literally less then two day Randy sent us some wedding pictures he took of us.  We got married a month ago and already have our highlight video and our long version video.  (Came within 2-3 weeks)  Our Blu Ray DVD came very nice packaged with our wedding picture all over the cover.  Once it was done it was in the mail the next day!  We love Celebrations of Tampa Bay and would recommend them to everyone!  We only had them as our videographer but I wished I used all their services." -Karla Vaello (Wdg at Crystal Ballroom Tampa 11.15.18)
Wedding Wire Review posted 01.11.20
"We loved working with Celebrations of Tampa Bay!! The photos and wedding video came out amazing, and the video made us cry, it was so sweet and creatively put together. The DJ was great too and didn't mind that it was a super small reception, he played music we all loved and kept the room full of vibrant energy. Highly recommend Dave and Joe for photography and video, they worked very well together and captured every important moment from getting ready and throughout the ceremony and reception. So happy we hired this team for our special day and would highly, highly recommend to anyone having a wedding in FL." -Amy Isenhour-Small wdg 12.21.19 in Nokomis, FL
Google Review posted 01.03.20
"The BEST investment for our wedding! Randy does amazing work. Our videos and photos are beautiful." -Amanda DiLorenzo-Garcia wdg 11.16.19 at Homosassa State Park
Wedding Wire Review posted 11.17.19
"Randy was very professional! He was right there always making sure to capture every special moment! Highly recommend for videography!!!" – Jennifer Hess-Oschnock
Review from The Knot posted 10.31.19
My husband and I went back and forth on having a videographer at our wedding. I'm so happy that we decided to have Celebrations of Tampa Bay as part of our wedding team. Our highlight video is awesome and we are eagerly awaiting the full video. The office team was also very polite, responsive, and helpful. Highly highly recommended! – Niki  Finney & Travis Thompson wdg 10.18.19 at Bilmar Beach Resort, Treasure Island

Wedding Wire Review post 08.08.19
"All of the members of the Celebrations of Tampa Bay team were incredibly professional, made us feel comfortable, and had a great time with us. They made sure that everything was on track on their end, and the pictures came out beautifully. The videos were stunning, and the DJ was so much fun throughout the night." –Alexis Soares wdg 06.21.19 at Cheval Country Club
Google Review posted 08.06.19
"Recently got married and used Celebrations of Tampa Bay for the video and photography. Randy and Joe were absolute professionals and hands down the most creative photographers I've ever worked with. I would definitely recommend this company. Overall very reasonable and affordable packages." -Heckmat Ammar wdg 08.04.19 in Largo, FL
Google Review posted 07.29.19
"Randy and his team nailed the entire day! From the music, to the pictures, to the incredible video footage, we couldn't be happier! I definitely suggest using the drone as a part of your package- we have the most amazing footage from our wedding!" -Emi Ulkovich, Wdg 07.20.19 at Holiday Inn Harborside, Indian Rocks Beach

Review from The Knot posted 07.09.19
"Celebrations of Tampa Bay is such an incredible group of professionals! Randy, Joe, and Stephanie are great to work with and they are wonderful at answering questions and organizing your event. Their videos and photos are top quality and you will be wanting to share it with all of your friends and family as soon as you receive them! Choose them and you will be so happy that you did! **THEY TRAVEL**" -Janyll Lavandeira-Arambulo wdg at Leu Gardens Orlando 07.07.19
Wedding Wire Review posted 05.06.19 (see review)

"We had randy with us and let me tell you, he is absolutely amazing! First off, you can tell he is doing what he loves. His passion definitely shines through and his work is amazing. There were details we asked him to capture with my mother being ill and he was sensitive and genuine to our requests. He was there for every important moment and worked beautifully between each segment of the day. His drone work was beautiful – I cannot believe the bay shots he got and the overhead views of our wedding was so breathtaking and a shot that would otherwise not have been viewed without randy. Overall, I cannot say enough good things. If your looking for a videographer – go with this company. They are worth every penny to view and relive one of the most important days of your life. Thank you so much randy and Celebrations!" –Amber Rentz (bride) wdg 03.01.19 at Hilton Clearwater Beach
Wedding Wire Review Posted 03.09.19
"I am so happy I hired this company. I used their DJ and videographer and both were great! They were very friendly and accommodating. Price was very affordable for having the 2 services!" -Veronica Whann-Kelleher Wedding at St Lawence Catholic Church 01.19.19

Wedding Wire Review posted 02.09.19 – (see review)
"I will be the first to admit that I almost did not hire a videographer.
It was definitely not in my budget, but I am so beyond grateful that we hired Celebrations of Tampa Bay. Having the video memories of our wedding day is something I will cherish forever. Every moment was perfectly captured and we are so happy with our video. I highly recommend any bride to be debating on whether or not to hire a videographer to do it. Those memories can never be recreated and having it on film is beautiful." -Krystan Weinstein wedding 01.05.19 at Hilton Clearwater Beach
Google Review 01.17.19 (see review) "Randy is the best! We saw his work at my cousins wedding and knew right away we had to hire him! He captured their special day perfectly and did the exact same thing with mine. He did the best job running around making sure he got all the shots and captured everything. I loved the drone footage and that everything was played back on the dj booths tv during the reception. The guests loved being able to see themselves and the bridal party. And then less than 24 hours after the reception he had already created a 3 minute preview video for us! I can't wait for the highlight video and the rest of the footage. I'm so happy that I will have these memories to cherish forever!" -Laura Metzler-Murphy, wedding 01.13.19 at The Addison, Boca Raton, FL

Wedding Wire Review posted 11.13.18
"Celebrations of Tampa Bay made our wedding day so special. The photographer was the best and the photographs were so beautiful, they didn't seem real. The DJ did a great job keeping the reception flowing and everyone up and dancing. We could not have been more pleased." -Stephanie Garrett-Christ Wdg at Double Tree Guest Suites N. Redington Beach 07.14.18
Wedding Wire Review posted 11.10.18
"Thank you so much randy! Our video turned out perfectly and the shots you got were amazing with the drone! We couldn't have picked anyone better ! Thank you again !"  -Kati Sari wedding 10.04.18 at Grand Plaza St Pete Beach
Wedding Wire Review Posted 11.09.18
Randy was great with quick responses.
He was very professional and the quality of his work was top notch!!!
I would and will recommend them. -Debby Duncan (mother of bride) wedding 10.05.18 at Cross Creek Ranch
Wedding Wire Review Posted 11.03.18
"The photos and videos were shot with a high level of creativity, the final product professionally done, and delivered in a timely manner. We absolutely loved the drone footage!   Randy and Yaro completely captured our most special day, and enhanced our experience. We enjoy sharing the footage with our friends and family, and it has provided us with memories to relive for the rest of our lives. " –Alex Gordon (groom) Wedding at Sand Key Park 08.01.18
Google Review posted 10.10.18

"We just had our wedding this evening and the DJ, photographer and videographer were incredible! The DJ kept our party rocking the entire night and we already know the photos and video are going to turn out amazing… extremely professional and a delight to work with.. highly recommend them!" -Haley Anderson-Flynn Wedding 10.10.18 at Civitan Beach Club Indian Shores
Facebook Review posted 08.06.18

Facebook Review posted 08.07.18

Google Review posted 07.14.18
"We highly recommend Celebrations of Tampa Bay! Very happy with our video! Randy and his team were there to capture all the details of the day…to the girls in one location , the guys in another location and then to the wedding site. Thank you for our wonderful memories! Mother of the Bride!"
-Debbie Coleman (mother of the bride) wedding at Sunken Gardens 03.03.18
see review
Facebook Post 06.01.18
"These are absolutely stunning!!! I could not have picked a better photography and videography team. You guys knew just what to do and say and it's obvious you love your job! You do such great work! Everyone was commenting. It shows in these amazing quality pics- capturing all the right moments. Thank you so much! We love these!!  – Elicia Liddle-Hunt wdg 05.19.18 at Sirata Beach Resort see review.
Wedding Wire Review posted 04.26.18
"After searching through so many photography, videography, and DJ vendors, I felt lucky to have found Celebrations. My main criteria while searching was fair prices and great reviews. Celebrations had both and I can see why they have such great reviews.
They have a team of people that are super easy to work with. Most of my communication was with Stephanie and Randy and both of them were so great and very quick with their responses. So far I've received the first set of photos and the highlight video and I'm very happy with them so far. I feel like they team really exceeded my expectations in so many ways. We also felt extremely lucky to work with their photographer, Yaro, he really made the whole experience fun and the pictures came out amazing." -Jennifer Colman-Davis Wedding o3.31.18 at Mote Marine Aquarium (see review)
Wedding Wire Review Posted 04.13.18

"WOW! WOW! WOW! What an incredible company! From start to finish Randy was on point! He went above an beyond our wildest dreams! Everyone that sees the highlight video feels like they were actually there. Randy uses so many angles and perspectives to capture each shot. Randy worked so hard to make sure he got only the best shots. He shot from above on a ladder and even laying on the floor to get the perfect angle! AND the drones – INCREDIBLE SHOTS!! My friend had a drone at her wedding but she didn't get the shots we did, celebrations has the equipment and they really know how to use it effectively! A wedding is amazing but it only lasts so long, having a video like the one Celebrations of Tampa puts together, you can enjoy it like you are there and relive the moment forever. Randy was also amazing with our photographers they worked together so well you would think they knew each other;) Thank you so much Celebrations of Tampa!! We couldn't have picked a better videographer team!"  -Marissa Rodriuez-Vercruysse Wedding 03.11.18 at Cross Creek Ranch.  See review
Wedding Wire review posted 04.06.18

"Celebrations of Tampa Bay is awesome! They made such a beautiful video of my wedding! Randy was detail-oriented and knew exactly what he needed to do. I planned the majority of my wedding by myself, so it was wonderful to have a vendor be so independent, without needing much direction from me. I put all my trust in him and my video turned out so much more than what I had expected! I would recommend them to anybody getting married! -Amanda Culp Ipe Wedding at Bakers Ranch 02.23.18
Wedding Wire Review Posted 04.06.18
"They did an amazing job capturing all the important parts of the night! Professional and on time."  -Samantha & Justin Decker 02.24.18 at Safety Harbor Spa
Facebook Review posted December 10th, 2017

"If I could give a million stars I would!! Choosing Celebrations of Tampa Bay for our wedding was the best investment we made, hands down! We used them for photo, video and DJ. Jamie and Randy captured our day in such a special way. Our photos were gorgeous and the video……oh the video was more than I could have ever hoped for!! If I could make one suggestion, invest in the video. So worth it to re live your wedding day anytime you please! The DJ kept our guests on the floor the whole night! So much so that we kept him an additional 2 hours after he was scheduled to leave! We had our photos and video very quickly after our wedding as well. Thank you so much COTB for everything you did!" -Kristie Burton Wedding 11.11.17 in Riverview see review

The Knot Review posted 02.17.18
"The best bang for your buck! I did the videography, photography, DJ, and drone for ceremony. Everything was amazing! Photographer took great shots, we loved our results. The whole wedding video was great from start-to-finish. DJ played great songs and did everything we wanted per our request. I couldn't say anything negative about this company, will be using them for all future photography and DJ needs!" -Emily Fykes-Farnum wdg 10.07.17 at Carlouel Yacht Club
Wedding Wire review posted 02.05.18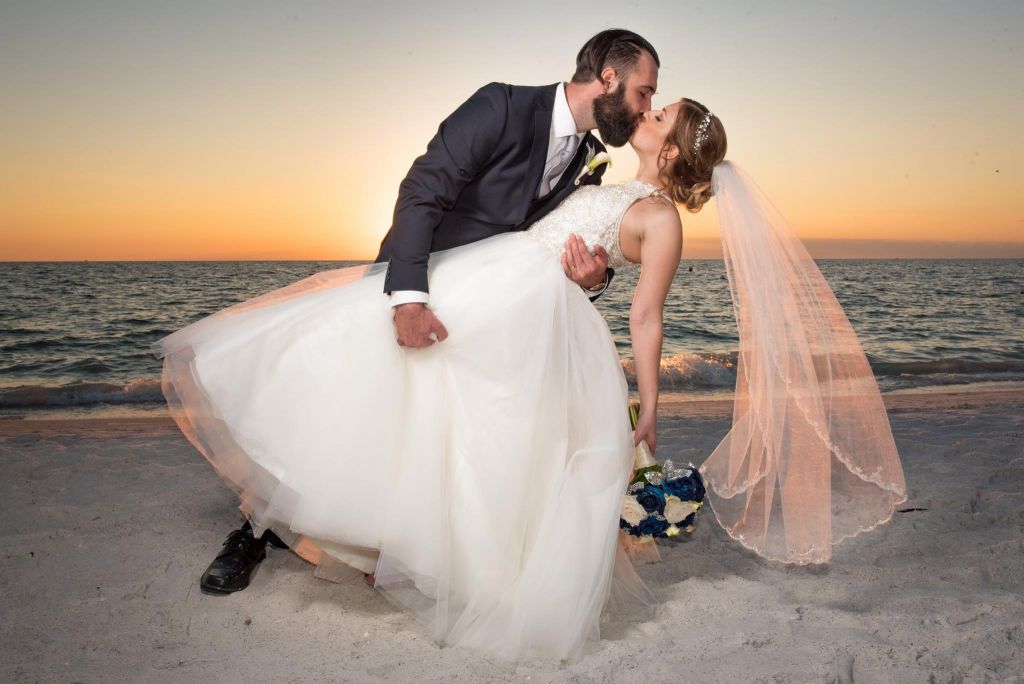 "From start to finish, the entire Celebrations of Tampa Bay team was a pleasure to work with! As soon as I messaged them on Wedding Wire, Randy replied right away to answer questions and set us up with Office Manager Stephanie to work out the details. We worked with Jamie and Marcel for photography and Dave for videography. Everyone arrived on time, motivated and passionate on the day of the wedding. Jamie captured all our requested photos – he even brought a printout that I sent him prior to the wedding to make sure we got all the shots. He has such an artistic eye and suggested photos we never thought of, which have turned out to be some of our favorites. Jamie and Dave worked so in sync, and they both made us comfortable posing while they captured the magic. Marcel did an amazing job capturing the groom and groomsmen getting ready, mixing it up with fun and serious poses. The final photos and videos are absolutely breathtaking, and we have cried on multiple occasions while watching the full video. They captured every single precious moment, which is so important because it's easy to miss things on such a busy day. We will recommend Celebrations of TB to anyone and everyone who needs a quality photo/video package that won't break the bank!" -Rachael Sena wdg 11.18.17 at Tradewinds Grand Island Resort, St Pete Beach

Google Review posted 12.19.17
"Celebrations of Tampa Bay was the first vendor we booked this summer for our wedding that is not until December 2019. That includes Photographer, Videographer, and DJ. I had ton of questions regarding what service packages to choose from, since our wedding will be a long. After talking to Randy and his very prompt responses, he made some changes to the package that we have chosen which we really appreciate him for doing that. The package is just perfect for us and the pricing you couldn't beat for what we getting. After that I knew I didn't want to wait any longer or look any further. This past weekend we had our Engagement session and we were so stressed out, since we never had a professional photographer taking pictures of us. Joe was our photographer, he was just wonderful not even 10 min into the session we were so relaxed and felt really comfortable. He is extremely professional, funny, and has an amazing eye. He went far above and beyond to capture the perfect pictures, he showed us some of them on his camera, and we loved them! We can't wait to see all of them. I couldn't wait and had to ask Joe if he will also be our photographer for the wedding, and he will be!! This made us so happy since, he made us feel so comfortable during the session. Look no further and book them, I highly recommend Celebrations of Tampa Bay to anyone!" -Ania Kock Wdg 12.07.19 at Venetian Golf & River Club, Nokomis, FL
Wedding Wire Review posted 11.26.17
"We booked our DJ & Videographer with Celebrations of Tampa for our Oct 2017 wedding! They were nothing short of amazing for our special day! Chance the DJ was great and professional! The videographer Randy was amazing as well, he captured our special day beautifully and we couldn't have asked for a better video to have to remember our perfect day!!! Celebrations of Tampa were well organized and responded quickly to any questions we had! Everyone we came in contact with through Celebrations of Tampa was amazing and made our day stress free! We have already recommended Celebrations of Tampa to our friends who are engaged! We want to Thank you so much for capturing our special day!" -Deanna Little wdg 10.07.17 at Florida Rustic Barn
Review Posted on Wedding Wire 11.21.17 
"This is the groom writing this review. We purchased the videography, and photography package. Randy and Joe were extremely professional and very skilled. They both did a better than expected job. All of our guest loved that Randy when above and beyond to capture different angles for the video. They definitely made our day feel very special. Thank you both!"
-Denzel Motley Wdg 10.27.17 on Yacht Sensation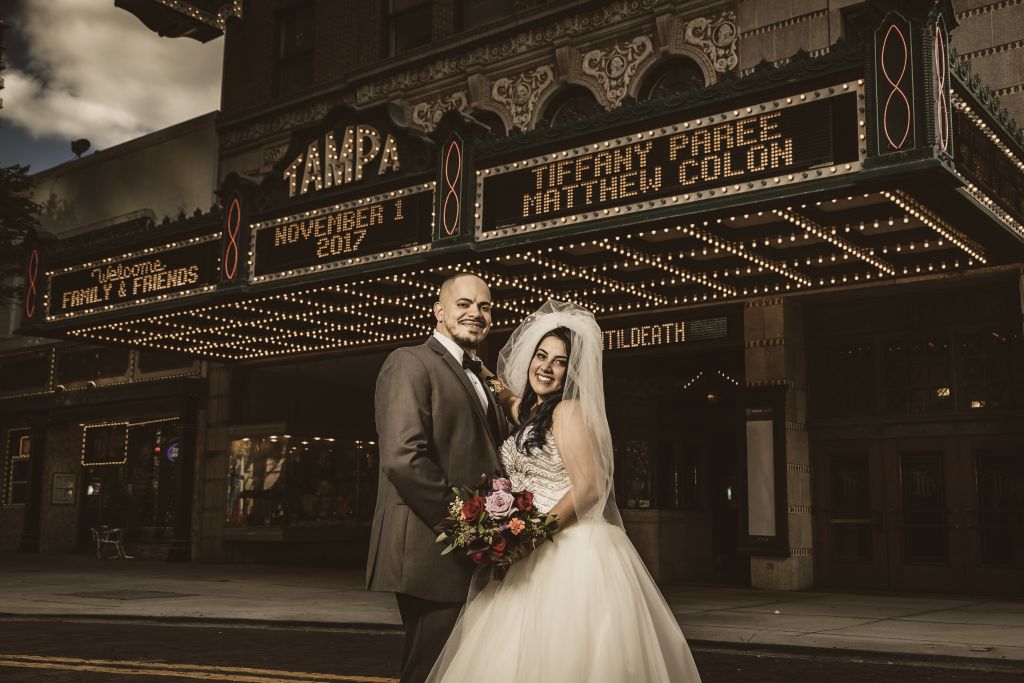 The Knot Review posted 11.19.17
"I loved Joe, Randy & Stephanie. Everyone was easy to work with and extremely helpful. I would definitely use them again and recommend them to my friends. Joe the photographer had such great ideas for pictures."   -Tiffany Colon, wdg 11.01.17 at Tampa Theatre
Wedding Wire Review posted 11.10.17
"Dave & Jaime were absolutely amazing! My guests commented on how great the music was, and my husband and I were so impressed with Jaime's creative eye for the photography! I can't wait to see the final images!!"  -April Madden-Smith wdg 11.05.17 at The Salvador Dali Museum
The Knot Review posted 11.02.17
"They all went above and beyond! Yaroslav (our photographer) made everyone feel very comfortable and gave us tons of tips for poses! Everyone in our bridal party loved him! Randy did an amazing job with the drones and we got our highlight video within a week. And our Tony, our DJ, kept the dance floor full the entire night – this was very important to us. I highly recommend them!" -Rose & John Straughn Wedding at Sirata Bch Resort 10.08.17
Wedding Wire Review posted 10.24.17
"Simply the best! The photographer, the videographer and the DJ were great to work with! So thankful to have found this team! They are super prompt and responsive! And so organized! We've got the best package for all the services! I had no issues requesting certain songs and sending the ones I wanted to be played during our wedding! The team was awesome! Looking forward to photos and video, and will update my review later!"
-Zukhra Azimova & Vadim Azimov wedding 10.21.17 at Grand Plaza
Customer Survey Form received 08.17.17
"They made it so fun and relaxing (referring to Photographer, Videographer, & DJ).  You all make the process so easy.  From start to finish communication was great!  Never a delay and always a quick response.  They work well with one another, super friendly and great at their jobs.  We know who to reccomend if anyone needs professional help!  Thankyou for these wonderful Memories to last a lifetime!" -Yesenia Torres wdg 06.17.17 at Grand Plaza.
Facebook Review Posted 07.16.17
"We absolutely, 100% recommend Celebrations of Tampa Bay to everyone!!We chose this specific company because they not only worked with the boat (Yacht Sensation), but my mom found a drone video of a sight in Utah and thought of my husband, who had lived there for 4 years (it's also where we will return), would love it and showed him. He fell in love with the footage taken and the idea of the drone and pushed me to look into it. I loved how beautiful all of their pictures turned out, but thought the drone was unnecessary. I caved on the drone due to persistence from my mother and my husband and I don't regret it one bit. The footage came out amazing. Everyone was beyond professional and friendly. Yaroslav even slammed his fingers into the door, scared the boat full of medical professionals and carried on like nothing had happened. They insisted on pictures at sunset, I insisted on food and clothes. I am glad I gave in there, as well. They managed to talk me into the sunset pictures and kept me laughing through the hangry. they captured everything perfectly and I am so thankful we went with them. Thank you all for being a part of our special day!! you are all amazing and we appreciateeverything you did for us."
-Kacy Morrow (wdg on Yacht Sensation 06.17.17)
Email received 07.14.17
OUTSTANDING!!!  I have never seen anything so awesome!  Thank you!! -Lynn Olsen (mother of bride) referring to video of wedding of Kacy & Zach on Yacht Sensation June 17th, 2017
Email received 07.13.17 
Thanks so much for the lovely dvd! We love it and although we booked quite last minute, we are so so pleased we booked you. It captures the day in a different way to photos, and makes it somehow more real that it did actually happen and wasn't a dream! -Joanna Williams wedding 05.17.17 at Grand Plaza.
Email received 07.12.17
 "This looks so great! I've already shared this video so many times. It really captures the day. I cant believe you were able to capture it so exactly. Thank you! Thank you!"
-Cheri Holwerda, Wedding 06.09.17 at Post Card Inn, St Pete Beach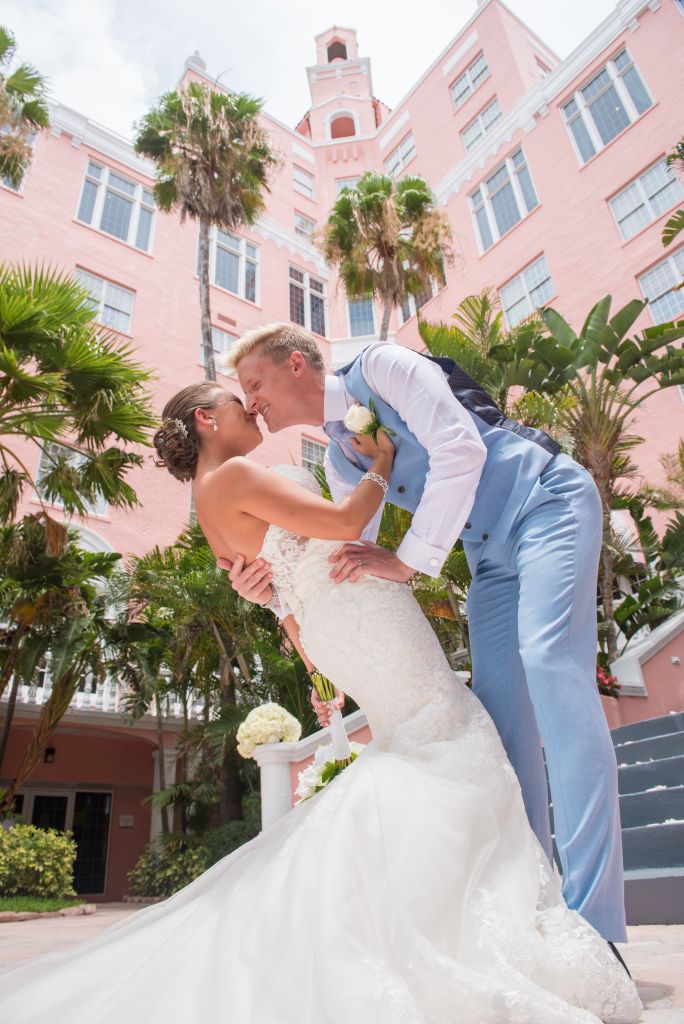 Wedding Wire Review posted July 4th, 2017
We had a fantastic experience with the team at Celebrations! They were very professional and very attentive to detail to ensure that every picture was perfect. We had one photographer with the Groom party while getting ready and 2 with the bridal party getting ready. We then had all three for the ceremony and pictures afterwards. The team were very happy to take as many great pictures as they could and to make use of the fantastic backdrop that we had at the Don CeSar hotel. We also used Celebrations for the videography which included drone footage. Everybody at the wedding enjoyed the drone and the footage that we have received back is truly spectacular. The team stayed throughout the night and continued snapping away during our reception which went on late into the night. We had excellent communication with Celebrations throughout the whole process (which was very important as we flew from England for our wedding) and I would highly recommend their services. – Katie O'Donoghue, wedding May 23rd at The Don CeSar


Wedding Wire Review posted May 27th, 2017
Our daughter's wedding was this past weekend and Celebrations was one of the first vendors we booked for photography, videography and the DJ. From the moment we contracted with them, everyone was responsive and helpful with our somewhat unique situation, the bride and groom and most of the guests are hearing impaired. This makes for a challenging situation regarding communication and instruction from the photographer. And for the DJ playing music and keeping the party going with guests who can't hear it. Stephanie did an awesome working with us to make this an amazing event. Randy was outstanding as the coordinator and managed the video and drone shots, as well. We can't wait to see what he does putting all of it together in a video for us. Joe, our photographer was amazing. He did not stop for 6.5 hours to capture every moment on film and clearly was an experienced professional, even faced with a challenging assignment. Chance, our DJ was the best! he managed to keep the party going, even with the guests spread over three adjoining areas and many of them hearing impaired. Thank you to Stephanie, Randy, Joe ad Chance for making this the perfect day we envisioned. You are the best! -Diane Ronghi, wedding May 20th at Hyatt Regency Clearwater

Wedding Wire Review posted 05.18.17
"Celebrations of Tampa was a pleasant surprise to work with at my daughters destination wedding held at Shepard's in Clearwater Fl. They were on time and very accommodating! High energy photographers with great attitudes extremely flexible ready and willing for anything! The pic and videos turned out amazing including sunset pics! As good as everything turn out the most amazing part was the quick turn around time after the wedding. My guess is they can't always do this but in our case we had video and pics within one week of the wedding! Very impressive!! If there was a stumbling block for me personally it was paying for their services in full before the wedding but they did as they said and all turned out wonderful. They are also priced very fairly in the industry. You could easily spend thousands more and not get anything any better. I'd highly recommend them to anyone! -Ken Stout (father of bride) wedding May 6th at Shephard's Beach Resort.


Customer Survey Form received 05.11.17
"The video was fantastic! Time was tight on our wedding day but you definately can't tell in the video.  LOVE, LOVE, LOVE! Best decision we made was hiring you for video services.  We regret not also using you for photography" -Leslie & Johnny Johnson wdg 04.02.17 at Hyatt Regency, reception on Yacht Sensation.

The KNot Review posted 05.01.17
"Short and simple: Celebrations of Tampa Bay is great. I recommend them to anyone who is in need of a photographer, videographer, and/or DJ. Stephanie, the office manager, was so helpful. Randy was also helpful with my million questions before booking. Jaime our photographer was AMAZING!! He went over and above during our engagement shoot and wedding. Randy was also amazing as our videographer. He captured special moments that will we get to watch throughout the years (as did Jaime!). Chance was our DJ, and get got and kept the dancing going. Although, he mispronounced my name after practicing several times (minor hiccup) and left out the introduction of the grooms' parents and a bridesmaid/groomsman. Overall, the photography and videography services were wonderful, and even with the name issue, I would still recommend them." -Carola Appugliese wedding 03.10.17 at St Pete Women's Club
posted 04.10.17
"Absolutely amazing video and photos for a reasonable price. They are so easy to work with and are real professionals. Their drone and video service took our breath away. They captured every moment of our wedding so beautifully. Thier commitment, to you, to their art, and to capture the perfect shot is evident from the moment you reach out to them, on the big day, and after. Randy was a pleasure to work with. Joe, one of thier photographers, had an amazing eye and captured photos that looked like they were out of a magazine. My wife and I could not be happier with the outcome. Thank you so much Celebrations of Tampa Bay!"
Email received 03.27.17
"You were Incredible! Thank you so much for your time and talent! We are so sorry we forgot to tip people as we left on boat we said omg we had cash tips for all….so do you have PayPal? Send us your address.
My family loved watching you work they Said you are incredible running and jumping and army crawling to get the best shots!!! We think you are the best!!!!" -Lauren King wdg 03.24.17 at Powel Crosley Estate
Email received 03.17.17
"The video is FANTASTIC!!!!!!! I absolutely love it and I have been getting some amazing compliments. Thank you for doing such a perfect job! I will definitely keep in touch with Stephanie and get her some pictures! I am sorry I missed you at the end of the wedding, I have a card for you! We just returned from our honeymoon, I will be sure to get it out in the mail to you asap!" -Cristina Byman wdg 03.04.17 Bradenton, FL
Review on The Knot posted 03.07.17
"We are so glad that we booked Celebrations! We can't say enough good things about Jamie, the photographer. He took fantastic engagement shots, and really helped to put us at ease. During the actual wedding, he seemed to be everywhere without ever being intrusive! The guests had so many complementary things to say about how great he was, and how many photos he seemed to take! Stephanie, their coordinator, was always really helpful. She was so prompt about answering questions and clarifying anything we needed! Chancey, the DJ, was also excellent! He did a great job at reading the crowd, and managed to keep people on the dance floor the entire night! He was also really accommodating when I asked him to do a birthday shout-out to one of our guests, and with song requests. If you're considering booking Celebrations, definitely do!!" -Cubby Swift, wdg 03.03.17 at The Sandbar, Anna Maria Island.

Wedding Wire Review posted 12.31.16Google Review posted 01.15.17
"I don't even know where to start. Since the moment I called to book them I have had nothing but a great experience. The photographer, videographer, and dj were all very friendly and fit right in at the wedding. They were very accomadating to our wishes. I'm very happy with the quality and personalized touch of every photo. They are very reasonably priced and worth every penny. Thank you guys so much for capturing our special day." -Katy Dupree-Alexander, wdg 12.03.16 at La Casa of Mason Creek, Homosassa, FL
"I am so glad we decided to add Celebrations of Tampa Bay as our videographer! Dave was fantastic! I was a little nervous about being filmed but I barely noticed he was there. The video is priceless and SO worth every penny! It captures so much that you don't get to see because the day goes by SO fast! It should be a must! So great to see the beginning of the ceremony that brides miss. Stephanie, Randy and Dave were great to work with. Highly recommend them!" -Stephanie Dolan-Shipman, wdg 10.08.16 at Pier 22 in Bradenton.
Wedding Wire Review posted 12.14.16
"We used Celebrations of Tampa Bay for our DJ, Videography and Photography package. Loved that the group was coordinated. Stephanie in the office is very responsive to questions. DJ chance had just the right music for our celebration and kept everything moving all night so that everyone had a fabulous time! Videographer Randy and photographers Eric and Don captured everything just the way we imagined and the sunset pictures were awesome. Everyone arrived on time and was very professional. This package was a terrific value – the highlight video with drone footage was available quickly and the final cinematic video has allowed us to share the wedding memories with those who couldn't be there. The photographers and videographers made us feel so special – just capturing our day without being intrusive! Would highly recommend – stop looking and book this group! Be sure to read all of the advice on their website – it is priceless!" -Kara & Dan Rohdenburg wdg 10.08.16 at The Resort at Little Harbor
Wedding Wire Review posted 12.10.16
"They were great to work with and you get so much with their packages! I did my research and found that they were very affordable! I'm very happy with the video and pictures!" -Sara Zajac-Frisco wdg at Grand Plaza on 10.07.16
Wedding Wire Review posted 12.08.16
"We did the whole package video, photo, Dj, up lighting and everyone was amazing they really work with us on everything they did a great job capturing all the items I made for the wedding."  -Juliette Nichols-Smith wdg 07.23.16 at Hollywood Venue
Wedding Wire Review posted 12.05.16
"Have the best photographer and videographer! They were super professional and they went above and beyond to make sure I got the special shots I really wanted! The video is breathtaking and I can't wait to get all of our pictures!!!! Thanks a million!!" -Kerin Clancy-Schmacker wdg 11.04.16 at Florida Aquarium
Wedding Wire Review posted 11.29.16
"Randy and Joe were really terrific! I cannot recommend their work highly enough, they did beautiful work, and for a great price. You can see our trailer for our wedding video on their youtube, https://youtu.be/4cr04JZ8NlI, and our photos are just beautiful. We've received tons of compliments on the work they did…. they were wonderful, unobtrusive but friendly, and completely professional. AND they got us our video and photos really quickly… some photos and the trailer were linked to us within DAYS, and they mailed us our hard copies within about 2 months. Cannot stress enough how great a job they did. Thank you so much, gentlemen! :)"-Kristina Huegel wdg 09.20.16 at Nova 535
Wedding Wire Review posted 11.28.16
"We worked with Joe for our Engagement shoot and he was also the one to shoot our wedding. He is great! Stephanie is also very patient (I sent about 100 emails a day). I am very happy with the team, can't wait to see our final shots!" – Karina Marin-Kobil wdg at St Mary Our Lady of Grace, St Petersburg 11.19.16)
Google Review posted 11.22.16
Where do I begin?! I am not one to write reviews, but I felt compelled to write one for this company because of the amazing quality of their work. They truly have a passion for what they do and it SHOWS. I am shocked at the passion and professionalism that has come out of this company during my wedding planning process. They are always available, are very supportive, and are open to your ideas. They take their time on their photos and videos. People were in awe during the reception when they showed the "love story" and the footage of me walking down the isle right after it just happened! Please, if you are thinking about using this company for your photos, do not hesitate to book with them!! Take my word for it! I did the all inclusive package and I am extremely happy with my decision. They made my wedding day so memorable. I will be recommending them to my friends and plan on using them in the future whenever I need a photographer. Thank you so much Celebrations of Tampa Bay for making my day a dream come true. I can't thank you enough for the amazing video and photos you took of my wedding day.
You Tube Comments posted 11.18.16
 "Thank you again for making such a beautiful highlight video! We can't thank you guys enough for your professional service and if we ever need a videographer in the future we will always think of you!" -Bonny Smith-Case Wdg 11.28.16 at Grand Plaza (services video)
Facebook Post 11.16.16
You guys are amazing! We left forAustralia on our honeymoon on the 7th and are still here so I'm just seeing this but am totally in love with it!!! Can't wait for all the pictures! You guys rock! -Kerin Clasby-Schmacker wdg  at Florida Aquarium 11.04.16 (services Photography & Video)
The Knot Review posted 11.06.16
"We had an amazing experience with Celebrations! Stephanie was very prompt with communication during the whole process. Our videographer Diego was fantastic, he was super friendly and fun to work with. Also our DJ was a lot of fun and played great music. I highly recommend Celebrations for your wedding or next event!!" -Vanessa Grigorian wdg at St Pete Womans Club, St Petersburg, FL (Videographer-Diego & DJ-Dave)
Email received 11.02.16

"This video is amazing! Your work is really phenomenal. Blown away
Thank you so much for everything! You guys were great to work with and made our day super special.
Do you mind if I post the video on social media? I'd love to share it with family and friends, while also tagging Celebrations!!"
-Ashley Brannon wdg at Tampa Bay Watch, Tierra Verde (services Photography & Video)
The Knot Review posted 10.29.16
I am so glad we decided to add Celebrations of Tampa Bay as our videographer! Dave was fantastic! I was a little nervous about being filmed but I barely noticed he was there. The video is priceless! So great to see the beginning of the ceremony that brides miss. Highly recommend them! -Stephanie Dolen-Shipman wdg at Pier 22, Bradenton, FL
The Knot Review posted 10.03.16
"Celebrations of Tampa Bay couldn't have made our wedding any better! This may seem scripted, but it isn't. We had our DJ/MC bail 3 weeks before the wedding. We contacted CoTB and they provided us with a DJ and uplighting for a better price and we had a great experience. They captured everything we were hoping for and were very flexible with special requests. We can't thank them enough and have gotten so many compliments from friends and family for the work they did. (services Photography, Video, DJ, & Uplighting)" -Matthew Solomon wdg 09.24.16 at Feather Sound Country Club
Wedding Wire Review posted 09.19.16
"So far everything has been great. Our Photographer Joe was on point and really enjoyed his passion. We are just waiting to see the final product but from what I saw on his camera i am confident the pictures will be great."-Jamie Reyes-Salazar wdg 09.10.16 at MacDill AFB (Photography)
Wedding Wire Review posted 08.23.16
"We hired Celebrations to do our Photo, Video and DJ. I highly recommend hiring one company to do the photo and video. Joe and Randy, work so well together. They were setting up each others shots and helping each other out as much as possible. The photos we smoothly and what I have seen so far look amazing! I can't wait to get the full package of photos and videos! Dave, our DJ, was great! He understood what we liked and what we wanted from just one phone call. The party never stopped and all our family and friends can't stop talking about home much fun they had dancing. We made a few (like two or three that I know of) song request on the spot and he accommodated them without any problems. I would def suggest you hire them, I would do it again in a heartbeat!" -Nicole Richards-Hamilton wdg 08.13.16 at Florida Aquarium/ 1930 Grande Room