In shooting weddings we are seeing a trend that negatively affects the wedding Photography and Video, which we want to make you aware of.  We see brides increasingly getting dressed later and later.  As a result we are rushed and end up having very little time if any time at all for pictures of bride & bridesmaids dressed before the ceremony.  Many times it makes no difference whether it's a 6 hour or 12 hour package, we find the bride will wait til just before the ceremony to get dress, with much of our time wasted.  Therefore I wanted to write this blog to help warn future brides.  Ideally we would like the bride to be dressed no later than 1 hour & 15 minutes before the ceremony.
What many brides do not take into account is  our Photographers and Videographers really need to be at the ceremony site 20-30 minutes before the ceremony.  When we are doing video we are often shooting with multiple cameras and drones which all have to be set up and adjusted.   This is something that pretty much has to be done right before ceremony because we cannot leave our expensive cameras and lenses unattended while we are shooting the bride.  Our videographers also have to put the cordless mic on the groom and run audio tests so that there will be no issues with you hearing your vows on the video.  Many times will be using a GoPro, which have to be mounted in some creative position at ceremony site.   If you have the drone in your package, we want to do the aerial shots before the guests have started to be seated, so that the noise of the drone does not interfere with pre-ceremony music.  Our photographers do not have as much to set up and adjust, but, they still really need to be at ceremony site 15-20 minutes before the ceremony.  The 30 minutes before ceremony is a critical time period, because if we have not adequately prepared and are not able to do our lighting tests and adjustments, it could negatively affect the quality of your pictures and video during the all important ceremony.  The quicker you are dressed the more shots we can capture with both Photography & Video.
We suggest to have your make-up & hair done no later than 90 minutes before and stress to them it is important to be on time.  We do like to get creative shots in the robes, so if you would like that, make sure to plan accordingly.   Although the robes are important, what is more important is shots in the dress.  Many times due to lack of proper time management, we had to sacrifice the pre-ceremony shots in the dress of bride and bridesmaids, which is a shame because that is when we can do some real creative poses.
Below is a general time line based on a 6 hour photography package with us starting 90 minutes before the ceremony ( 2 hours is even better).  Every wedding can be different and things are adjusted based on the logistics and situation of any particular wedding.  If doing a first look, you would want to start at least an hour earlier, so as to allow even more time for photos.   If you have more time in your package it is great because you as well as us will not be as rushed, which will allow us to get more pictures.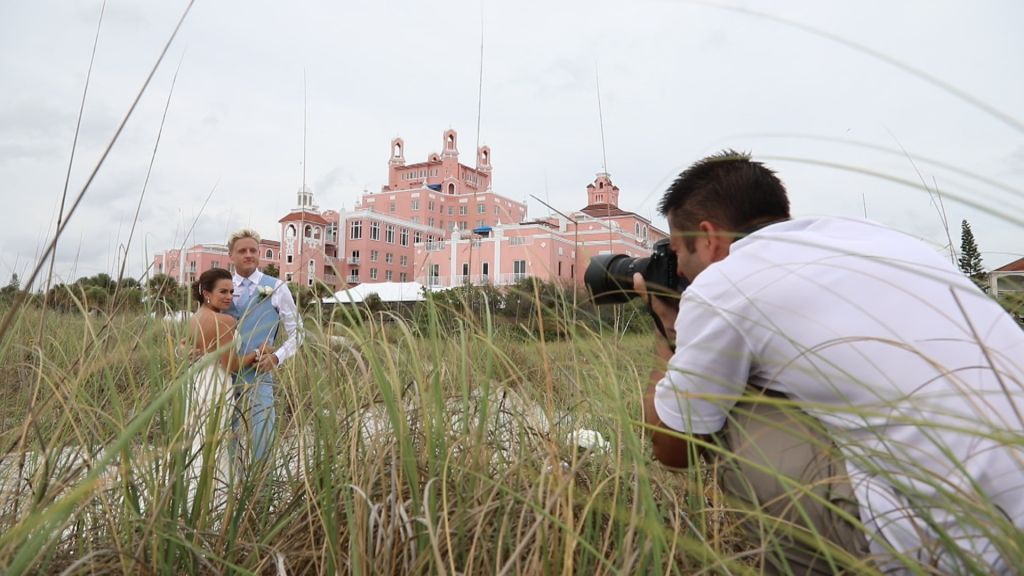 4:30pm-4:45  Detail shots of dress hanging, girls in robes, final touch ups with Make-Up & Hair
4:45pm-5:00 Shooting the Guys
5:00pm – 5:30pm Shots of Bride & Bridesmaids dressed, Parents with Bride.
5:30 – 6pm Preparing for Ceremony
6pm Ceremony
By allowing adequate time, it not only helps us, but also is better for you, so that you are not in a frenzied rush, and then all of a sudden you are walking down the aisle.  I remember a wedding a few years ago where the bride complained that there was no video shots of her smiling, but it was because she was so stressed, running late, bridesmaids being yelled at, and simply, we could not get any shots of bide in a pleasant demeanor.  That is not the way to spend your wedding day.  It is nice for a bride to have that last 30 minutes to "soak it all in", to get a breath, to take in the magnitude of this big moment in your life that is about to happen.  You will then be a little refreshed as you walk down the aisle to the man that you love.  The wedding day will go by quick, this is the one moment you should be able to relax, get off your feet and enjoy.  A wise man once said "Life moves pretty quick, you don't stop and look around once awhile, you could miss it".  (Philosopher Bueller 1986)  You have paid good money for your photography and video, so help us, to help you to get the most of your pictures and video,  by being in your dress no later than 75 minutes before your ceremony.