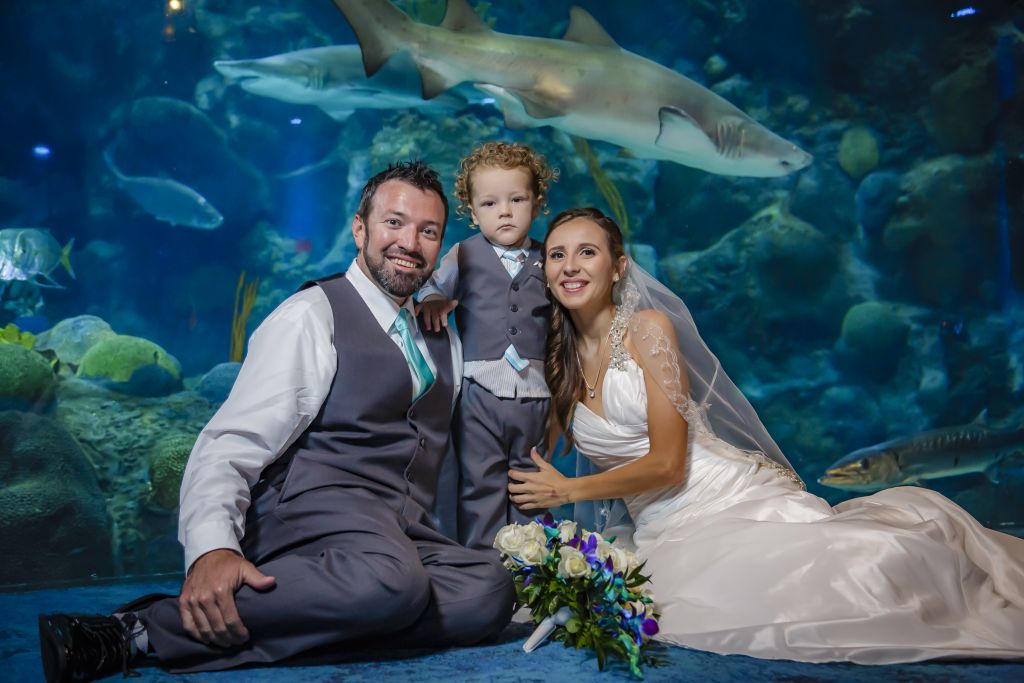 Bride and Groom met at Publix on this wedding at Fl Aquarium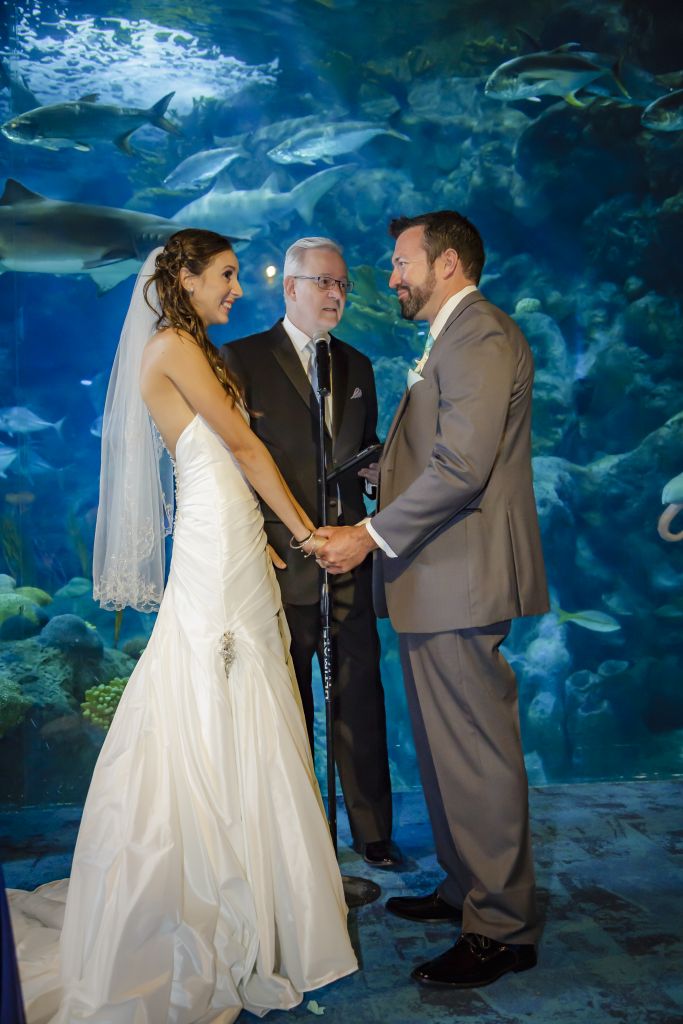 The wedding of Kerin & William at the Florida Aquarium, surrounded by Tropical Fish, Sea Turtles, Sharks, and Stingrays in the Coral Reef Ballroom.
Kerin & Billy met in 2010 in the Soda Can aisle working at Publix. Billy was an Assistant Store Manager and Kerin a Customer Service Staff Associate. They worked together for a year before they realized the potential of a great relationship. Kerin had a flat tire after work one day and Billy so conveniently had a tire air compressor in his car and the rest is history.
The ceremony in the Coral Reef Room of the Florida Aquarium. We love shooting a bride and groom with the back ground of a 500,000 gallon, floor to ceiling tank with over 2,000 Coral Reef fish and sea life. We used low light lenses for this. This allows us to not have to use lights which will reflect in the glass and allows the video to capture an accurate image of the surroundings. It is just, breathtaking, a photographers dream. While shooting the bride and groom we had a Sea Turtle swimming in the background (see video). In the Tunnel Tank area we were lucky to get multiple shots of Stingrays in background while shooting bride and groom.
If having a wedding in the Florida Aquarium it is critical to have photographers and videographers who are highly skilled and have experience shooting in low light atmospheres with a lot of glass.  Even though I have shot over 30 weddings here, each time I still learn something that I can do better the next time.  For the videographer having the right color temperature is a challenge.  The face of the bride and groom can be very warm (yellow & orange)  because of the spot light in this room, however, any other area outside of those two spot lights is very cold (blueish).  As a result there is constant adjusting throughout the ceremony, something that an average videographer does not do.  As a photographer, it's a challenge with the bouncing of light.  You want to keep the tank in the background as light as possible, there for you have to control the light on your subjects so that the camera does not lower the brightness for the background.  A photographer also has a challenge of keeping the reflection of the flash off the glass so that it does not show in the picture.  Therefore its extremely important to hire professionals who know how to shoot in the Coral Reef Room.  For information on having at this unique venue see Florida Aquarium Weddings.

Tags: