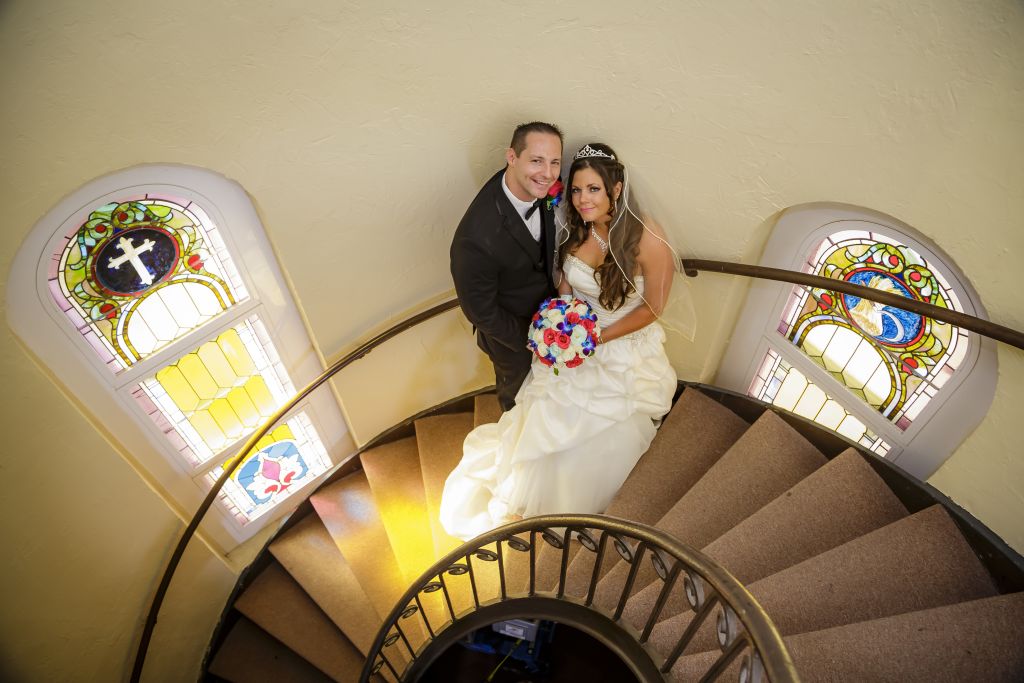 October Wedding at Sacred Heart Church
Sand Ceremony with 3 Dogs at Grand Plaza
Wedding of Kimberly Serio & Hank Papale at Sacred Heart Catholic Church in Tampa. After the church ceremony they had a sand ceremony that included their dogs. Although we have done many weddings at Sacred Heart and many weddings at Grand Plaza but never shot the two venues on the same wedding.  Kimberly had a very colorful bridal party with having her girls in a combination of 3 different colors.  This is a great idea, it provided some great contrast for wedding photography.
Some precious shots with the 3 dogs on the beach. Tampa Wedding Videographer Joe did the stills and Tampa Videographer Randy did the video, and Dave was the DJ for the reception in the Imperial Ballroom of the Grand Plaza. Sacred Heart is provides such in amazing background with its architecture. It is very important if having a wedding there, to have extremely experienced photographers and videographers due
to the restrictions. I always draw up what looks like a footall play diagram when doing weddings at Sacred Heart, planning what cameras with what lenses will go where and which cameras will move throughout the ceremony. We have shot over 40 weddings at this church, but depending on who is the chuch coordinator, restrictions can change from wedding to wedding so it can make it very challenging.
The Sand Ceremony took place at Sacred Heart with Kimberly & Hanks 3 dogs. It was a more fun and relaxed ceremony with the bridal party (and dogs) coming down the aisle to Forever by Chris Brown.  See our Tampa Wedding Photographer Gallery for more weddings at Sacred Heart Catholic Church.
For the aerial shots in downtown Tampa we notified Peter O'Knight Airport through TIA for permission to fly up to 150 feet agl.  For more of our aerial photography see Tampa Aerial Media.
Tags: