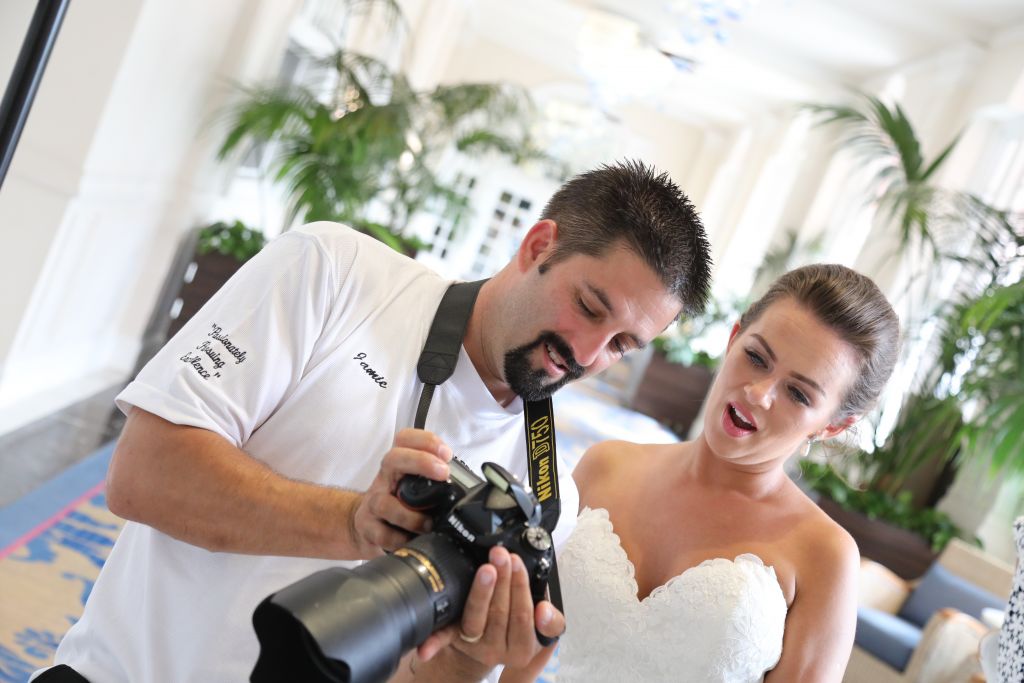 In being a Tampa Wedding Photographer for over 20 years now, I have come to realize how the extreme Florida weather can play a major role in wedding Photography.  We often book brides from up north who do not realize the heat factor of the brutal Florida sun on our white beaches.  This is where the Photographer needs to be a leader in guiding her to make her day as pleasant as possible, and to get the most our of her wedding photography.  Here are some tips at dealing with the extreme weather conditions on as you plan your Florida wedding.
Find a Photographer who will be proactive in dealing with the weather. I was shooting a wedding recently as a videographer and working with a photographer from another company who ended up making the bridal party suffer in the Florida sun unnecessarily.  He took about 7 minutes to line up the bridal party on the beach. He had his 2 assistants move all the obstacles, adjust all the bouquets,  and he was ready to shoot, only to realize the backlighting was too strong as he yelled out "this won't work, we got to move".  He moved the bridal party to face another direction, again taking 5-7 minutes, and again to only realize, the back lighting was still too strong.  He turns the bridal party around and for the third time takes another 5 minutes to set up and finally takes a picture after the bridesmaids had been suffering in the heat for about 15-20 minutes, for one shot.  This was terrible planning by the photographer.  He should have known before he put the bridal party in the hot sun that the backlighting was too strong.  A Photographer in Tampa, or anywhere in Florida especially where the climate is hot, must plan accordingly for the heat.  He or she must be a leader in guiding the bride to be able to keep her and her girls as cool as possible.  Although it is hard to imagine being too cold right now as we are finishing the dog days of summer, but we can also experience cold weather as well, and the same principle applies.

Find a venue that has great areas indoors as well as outdoors for photos

.  It is always good to find a venue that has some great areas indoors as well as outdoors so that you can get a break from the heat, as well as having an area for pictures if it rains.  Ideally if your ceremony is outdoors in the heat, we like to start with the family pictures afterwards.  We realize it is hot for you during the ceremony so it is good to be able to have a break in the air-conditioned room while we do the family pictures indoors.  This is not only good because of heat but also because of lighting conditions.  We realize if you are having beach weddings you probably want pictures on the sand with the ocean in the background, however in the middle of the day, the lighting is not favorable for this.  The sun reflecting on the bright sand with a clear sky creates a backlighting situation which will take the color away from your pictures.
Realize the Priority is the Bride and Groom Photos.  A photographer using time wisely is always important, however with extreme weather, the time becomes critical.  Therefore you must decide your priorities.  I have been in situations where we can see an approaching storm coming and know we only have 5-10 minutes to shoot outdoors.  In those situations we will immediately start to shoot the bride and groom shots, because that is the priority. The family pictures we can always get indoors. We do not need the greatest of backgrounds for family pictures.  The same situations have arisen during sunset.  I have often worked with other photographers and have seen them still doing family or even bridal party shots while the sun is setting when they have not shot any shots of just the bride and groom. By the time they were ready for the bride and groom, it was dark.  What a shame!  During that golden period (10 minutes before and after sunset) the photographer has to be doing the portrait shots of the bride and groom.
Have a Backup plan for rain.  Make sure to have a covered or indoor area where you can move the ceremony too if it does rain.  A cloudy or rainy day can be a blessing for photography.  We have been in situations where the bride is bummed because it is raining or threat of rain on her wedding day.  We are usually excited, because we know this will probably give us great lighting conditions.  Most brides want blue skies and sunshine for their wedding day, but this is usually not ideal for photography.  Clouds can help to diffuse the brightness of the sun, which will help us to produce better color in your wedding photos.  Sometimes also the cloud formation on a stormy day will be absolutely spectacular.
Florida has some of the best scenery for wedding photography and by being proactive in dealing with the extreme weather, you should have some great pictures and video, that will be enjoyed by you and your future generations.