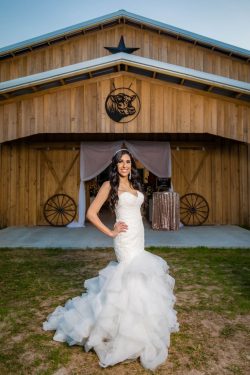 The Wedding of Cynthia Deras & Adan Castro at This brand new venue 45 minutes east of Fort Myers.  The Venue at Mudge Ranch has one of the biggest barns you will find for a wedding venue. It was needed for this large wedding. There were 3 different bands and one DJ to entertain for the 9 hours of the reception. My favorite was the last band a 20 piece orchestra with a Tuba, which we feature on the teaser at beginning of this video.
I just love some of the Mexican Wedding Traditions, one of the craziest and most fun part of the reception is the dance known is "Sea Snake (La Vibora de la Mar) (7:57). During this dance the wedding guests sing a song and dance holding hands, running around the room, circling under a bridge formed by the bride and groom standing on chairs. It gets pretty crazy as you see in this video when the guys do it, they try to knock the groom over. I warned our Photographer, "watch out this may get crazy", but I just love it, makes for good video.
The Tossing of the Groom (5:51) the groomsmen & male guests all converge on the groom and hoist him up and carry him around the room while tossing him into the air like a rag doll. The joke is, "now that he's married, he is as good as dead", so symbolizes the death of his bachelorhood. In this case they did it after drinking alcohol, not sure if I would trust my groomsmen like that, after all that drinking (5:31).
The Mexican wedding traditions for the ceremony are based in the honoring of family & faith, with "Padrinos and Madrinas" (family & Godparents) who play important roles in the wedding. Las Arras is a tradition dating back to ancient Room where the groom present the bride with 13 gold coins during the ceremony, a tradition that originated in Spain. 13 symbolizes Jesus plus the 12 apostles. It represents the grooms commitment to support his wife throughout their life together. El Lazo (Unity Lace) is a symbolic tied rope which is placed around the necks of the couple in a figure 8 after they have exchange their vows to represent their linked future together.

For info on having a wedding this beautiful ranch in LaBelle, Florida see The Venue at Mudge Ranch.

Tags: