Penguins, Sea Turtles, Manta Rays, and Sharks crash weddings at Florida Aquarium
Florida Aquarium Wedding from Celebrations of Tampa Bay on Vimeo.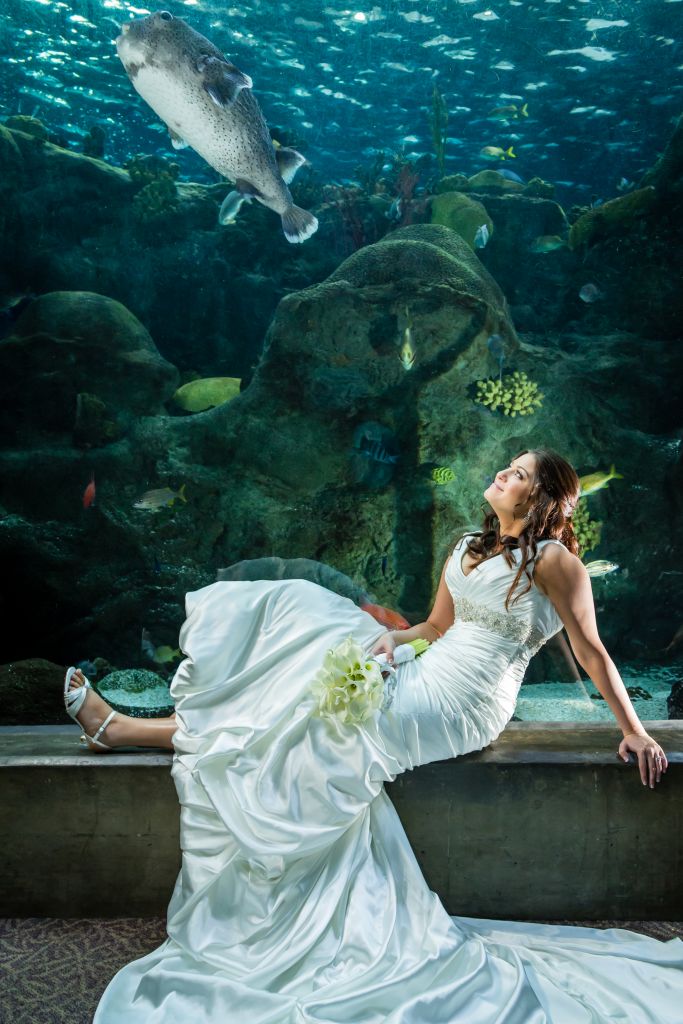 We had two weddings at Florida Aquarium in the same weekend in May, so we decided to include both weddings in this blog.    There is nothing like getting married and having a huge shark swim overhead.  We love it when the ceremony is in the Coral Reef Room of the Florida Aquarium. A creative photographer is like a kid in a candy store with the back ground of a 500,000 gallon, floor to ceiling tank with over 2,000 Coral Reef fish and sea life. We use low light lenses for weddings at Florida Aquarium.  Joe shot the still pictures and Randy shot the video.  It is just, breathtaking, a photographers dream. While shooting the bride and groom we had a Sea Turtle swimming in the background (see video). In the Tunnel Tank area we did portraits with a Manta Ray swimming overhead.
If you are having a wedding at the Florida Aquarium, it is extremely important to have a photographer who has experience shooting in this type of environment. We use expensive low light lenses so that most of the time we do not have to use a video light. In this ceremony in the video above, I had to use a little light because there was some draping that was putting a shadow on the brides face. I had the best man stand to cover up the light so that it wasn't too noticeable from the back cameras.
There are so many challenges that as a photographer one has to overcome, and if you have a inexperience photographer, your pictures and video could be a disaster.
If the reception is also in the Coral Reef Room as this one was, you usually only have about 10 minutes to shoot in there after the ceremony because the FL Aquarium Staff have to turn over the room to convert it to a reception room. Therefore a photographer has to move quick. We will usually just do bride and groom photos in the Coral Reef Room and do the family portraits elsewhere around the aquarium.
There are many other great areas to for wedding photos as the aquarium. The tunnel tank area is excellent for groupings of 5 people or less. We did the first look in the wetlands which is great for group shots because of stairs where we can stagger a group of people. For sunset pictures we took the bride and groom outside behind the aquarium where the American Victory Ship is docked.  A year ago, the Aquarium remodeled a room on the 3rd floor which overlooks the Cruise Terminal and Channelside.  It makes a great area for getting ready photos for both the bridesmaids and groomsmen.  The Coral Reef Room was also re-modeled recently and what was always in impressive room with the tank, also looks impressive on the other 3 sides of the room.

On the second was the great toast I have seen in over 4,000 weddings. You have to see the video below.

For more information on weddings at the Florida Aquarium see http://www.flaquarium.org/host-event/weddings.aspx#11.

Tags: