The Florida Aquarium and Lowry Park Zoo offer some great opportunites for exotic wedding photography
In being a photographer in Tampa for almost 20 years now, I have come to love doing weddings in this beautiful "city by the bay".  Tampa is increasingly becoming a favorite location for destination weddings,  with some unique locations for weddings.  We will share a few tips on wedding photography at Tampa's most popular venues. The Lowry Park Zoo provides a nice tropical atmosphere for your wedding, and great opportunities for unique and exotic wedding photography.  The Ituri Forest gives a tranquil ambient tropical surroundings for the wedding ceremony. Where else can you get married, surrounded by Giraffes, Zebras, Pigmy Hippos, and other exotic animals.
 At Lowry Park zoo, you can experience Animal Encounters, a time after the ceremony where the guests, and the bride and groom get to touch and feed exotic animals. Wedding receptions at the Safari Lodge are just incredible, its one of the few venues where you really do not need any uplighting.
At the Florida Aquarium's Coral Reef Room,  the views are "breath-taking".  This beautiful ceremony location features a 500,000 gallon Floor to Ceiling Tank.   We purchased $1,600 low light lense specifically for doing weddings in this room.  It is very important to have experience photographers who know how to shoot in a low light atmosphere.   If your ceremony and reception are in the Coral Reef Room, you will only have about 10 minutes for pictures, so a Photographer has to know how to move quick, and prioritize the shots you want. We will typically do shots of parents and bridal party in the Tunnel Tank Area or the Wet Lands Area, so we can use as much time in the Coral Reef Room for the Bride and Groom Portraits. Check out our wedding photographers Tampa Pinterest page for more images at the Florida Aquarium. Florida Aquarium Wedding from Celebrations of Tampa Bay on Vimeo.
The Mainsail Conference Center and A La Carte Event Pavilion are conveniently located near Tampa International Airport.  Mainsail has a nice rock waterfall which makes for great backgrounds for photography.  Downtown Tampa continues to grow and has several great hotels that are very popular with weddings including The Marriott Waterside an elegant five-star hotel, The Embassy Suites Downtown Tampa, provides great areas for contemporary photography, and
The Westin Harbour Island Hotel.  Also in Tampa is a "sophisticated elegant" venue, the Oxford Exchange, a coffee shop / book store by day, intimate wedding venue by night.  For artistic shots, the Oxford Exchange is a wedding photographers Tampa dream.  We film many of our Love Stories in the Downtown Tampa, because the night lighting around Harbour Island & Tampa Convention Center is glistening.   Harbour Island being right on the Channel gives you great water scenery and with the night lights reflecting on the water, it, allows for some spectacular photography.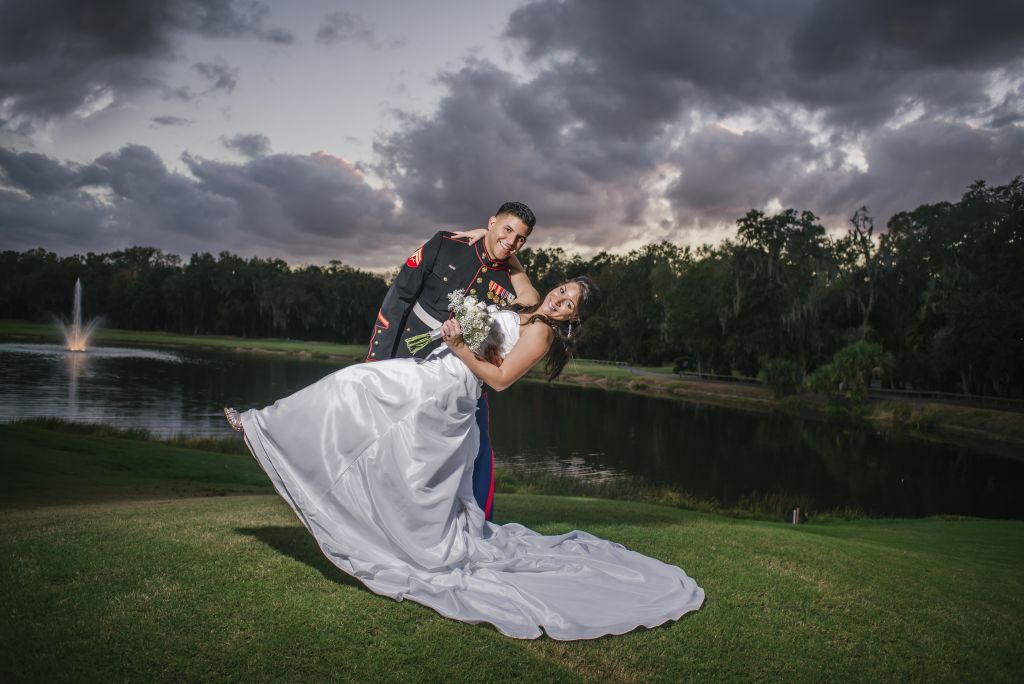 Tampa also has some great Country Clubs.  We love green in the background, because it tends to provide better contrast to your pictures, which makes your colors "pop".  Tampa Palms Country Club is one of our favorites, because like most good country clubs, it has lakes, wooden bridges, rolling hills, trees, however,  at Tampa Palms they are all right near the ceremony site.  Therefore the bridal party does not have to walk very far.  The ceremony is in the beautiful circular veranda overlooking the lake and waterfall.    Tampa Palms also has elegant pillars on the front part of the building which gives you opportunities for some stunning elegant wedding photos.  Some other great country clubs in Tampa are Pebble Creek, Hunters Green Country Club and Carrollwood Country Club. One of the most popular wedding venues in Tampa is The Rusty Pelican a well known restaurant on Rocky Point. View the highlight video below for a wedding at the Rusty Pelican. See our wedding photographers Tampa social media pages for our most recent work and ideas.  If you have any questions about a wedding venue in Tampa, always feel free to contact us.